Convenience Stores Face a New Loyalty Test: Will They Pass or Fail?
Mar 17, 2017 / By Vanessa Horwell
In the old days, you would drive your car into a convenience store forecourt and, while filling your tank at the gas pump, stroll inside for a soft drink, a slightly stale sandwich and maybe a pack of cigarettes. Once your gas tank was full, you'd pull out a wad of cash or a credit card, pay the cashier, and drive off.
These days, you'll still want the gasoline. But instead of a mystery sandwich, you might pick up a healthy salad or hot Thai food. And if you're not in a rush, there may even be the option of comfortable seating and a full menu of freshly prepared food. (You should probably forget the cigarettes, though.)
The move towards upscale convenience stores, which has been building momentum for several years, was recently reported by The New York Times. The Times estimates there are now at least 1,500 convenience stores that are "food forward," meaning they offer fresh produce, elaborate sandwiches and such exotic fare as Korean bibimbap. Restaurant or cafe-style seating is also on the rise. (I should say here that the U.S. continues to lag certain convenience store trends in the UK and parts of Europe, where brands such as Marks & Spencer add a touch of luxury to your petrol station shopping experience.)
This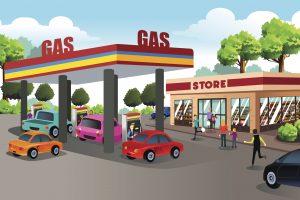 current trend in the U.S. market reflects both a major change in customer demographics that must make room for traditional "Cokes and smokes" as well as the Millennial shopper who might want to linger over a tasty, inexpensive and convenient meal.
In thinking about the shift in convenience store demographics, I like the four consumer segments identified by General Mills around specific attitudes, behaviors and needs:
Breakfast Barons, generally more affluent, early morning types who buy baked goods, granola bars and coffee.
Vice Squaders, mostly older and less affluent buyers of beer, fountain drinks and cigarettes.
Pit Stoppers, on-the-go shoppers whose purchases center on gas, the restroom and the ATM.
Meals & More, younger customers (often Millennials) who want meals, particularly lunch and dinner.
This new demographic profile is having -- or should have -- a big impact on loyalty programs at most convenience stores (or C-stores, as they are known in the business). And so it is.
A 2016 survey by the National Association of Convenience Stores (NACS) found that new investments in technology related to loyalty programs and enhanced customer experiences are central to C-store growth strategies this year.
Nation's Restaurant News also lists loyalty programs as a factor in motivating more visits to C-stores among Millennials, in particular. This young and increasingly affluent but cost-conscious group now spends more money at C-stores than fast-food restaurants, and the Gen Z crowd is not far behind.
Alarm bells are already sounding among many fast food restaurants (or "quick service" restaurants, for the more enlightened). In some cases, they specifically cite "new or retooled" loyalty programs as giving C-stores a competitive edge.
What are these "new or retooled" loyalty programs?
Because the intent of any loyalty program is to increase frequency (of spend and visits) and create more profitable customers, a good place for many convenience stores to focus is offering fuel savings, such as Fuel Rewards®, a very popular loyalty program that significantly influences buying behaviors (a 2016 Excentus survey ranked fuel savings as the #1 most popular rewards program currency in the U.S for two consecutive years).
But gas savings and other rewards are best leveraged when C-stores apply new technology and increased financial discipline to a loyalty program. I look at the landscape this way:
C-store loyalty programs need to accelerate their use of technology -- especially mobile technology -- as Millennial membership increases.
Rewards, shaped with the help of predictive analytics and other data-driven innovations, will require a heightened degree of customization as buyer demographics and buying behavior evolve.
As loyalty programs grow in scope and become more complex, program managers need to apply more financial discipline to ensure that the program generates profitable revenues as well as loyalty.
The technology piece of the puzzle is a particular challenge for many C-stores that still rely on point-of sale messaging -- such fuel pumps with invasive video screens. Fuel Retailer magazine notes that customers increasingly want the "invited content" that they can find on their smartphones with relevant and customized rewards that are based on their buying patterns and interests.
Once a C-store understands the extent to which their new-generation customers are tied to smartphones, they enter a universe where clever apps might help shoppers select and monitor rewards, learn of incentives on-site and in real time, and pay on the spot with Apple Pay, PayPal or any number of digital payment options. (One chain, 7-Eleven, has a 7Rewards loyalty program with app-only offers available in the store.)
The bottom line is that C-stores need to get the technology piece right if they expect to keep and expand market share against grocers, QSRs and other competitors that are nipping at their heels. Mobile technology, in particular, opens the door to data collection and rich shopper insights that will enable them to better identify and reward their most loyal (and profitable) customers while enabling a faster, more flexible response as their customer base continues to change.
Will they get an A+? Only time will tell.
Sign up for our insights on the convergence of business and PR