What data should I gather for my B2B buyer personas? {downloadable infographics}
Jul 30, 2020 / By Sydney Anderson
You already know your B2B company needs well-developed buyer personas. They are the foundation of your content strategy, longtail marketing efforts, sales communications, and, well, everything related to knowing what makes your potential customers tick, click, and make decisions.
Buyer personas are an essential component of understanding your target audiences and their needs. That's why it's so important to keep your personas updated, especially when every business is adjusting to a challenging environment, and how they interact with prospects and partners amidst so much change.
If you're just starting to develop your buyer personas or getting ready to update them, do you know what data to look for, and where?
Your buyers are humans, too
It's easy to look at your "targets" as business entities. But your buyers are nuanced, complex, and ever-evolving. Oh, they're human. So that's how you should treat them.
Yep, you're not only selling your company's technology to other companies; you're selling your solutions to people. And that means you should humanize your buyers' personas, not only display company descriptions and information.
Not sure how to organize your buyer personas? Start by gathering information in these general categories:
Demographics

Company Information

Sales Insights




For buyers' background, start with demographics
I touched on the importance of humanizing your buyer personas, so let's start there. Giving your personas the necessary background and demographic details help you get in the right mindset – your buyer's mindset.
I suggest adding information like:
Name

Title

Education

Previous position(s) held

Role specifics

Hobbies/interests

Boards or mentorships

Content/news preferences (for example, LinkedIn, industry newsletter)
You can base this information on what you already know from current clients, and finding data about prospective clients through B2B CRM tools and databases like Zoominfo, Salesforce, and InsideView. Find trends among this information and write them down.
Pro tip: Start with a current client and build from there. Say one of your personas matches an existing customer from a large retail loyalty technology company. Use some of their credentials to build out this new persona.
Example:
Name – Sandra

Title – Chief Revenue Officer

Education level – Bachelors in Marketing, Masters in Marketing with an emphasis in Brand Management

Previous position(s) held – VP of Sales, EVP Marketing and Growth

Role specifics – Involved in all activities that generate revenue and sales growth

Hobbies/interests – Reading leadership materials, attending industry conferences, spending an afternoon at the beach, travel for work or relaxation

Boards or mentorships – American Marketing Association – South Florida Chapter

Content preferences – ANA SmartBrief, Retail Touchpoints, The Wise Marketer, Total Retail, Grocery Dive, Winsight Grocery Business
Your personas must have a proper profile. So name them. Give them a title, a photo, field-focus, and even an education-level. That breaks you out of the traditional way of looking at your buyers as companies and like people instead. Because that is who you're marketing and selling to—a person.
Company Information
Now that the creative work is complete, you can reward yourself by writing down facts. Well, sort of.
A lot of company information will come from the data you have about current customers and customers you want to attract.
Take note of information like:
Head office and locations, especially if you're doing business internationally (NOTE: This can be a challenge right now, with many offices temporarily shuttered and people working from home)

Company size

Revenues

Customer list

Public or privately held

Industries served

Industry challenges
Again, it's easiest to start with the data you already have and work from there.
Let's stick with our Sandra example:
Head office and locations – Miami, FL

Company size – approx. 125 employees

Revenues - 5-$10Million USD

Customer list – small-to-mid-sized food retailers and grocery chains in the southern US states, looking to expand to serve more retailers across state lines and nationally.

Public or privately held – Private

Industries served – Grocery/retail loyalty in Southern US

Industry challenges – Many firms already servicing grocery sector but older solutions not geared up to current needs - rapidly changing needs and models like Click and Collect, BOPIS and online grocery ordering/delivery impacting operations due to COVID-19
You may have a good grasp on some of this information already. Other areas might draw a blank. Try to gather as much as you can with the knowledge that your personas will always be a living document, ready for edits as industry trends, markets, and customer needs evolve.
Sales Insights
Once I have their background and company information complete, I like to jump into how my company's services can better assist them. Typically, I start with gathering:
How to reach buyers (i.e., email, LinkedIn, phone)

Known RFPs

Discovery questions/topics

Pain points

Solution(s) you offer that solve each of those pain points
The above information is your lifeline when it comes to sales and marketing. I often reference this section of our buyer personas, especially when we start any new content campaign. I have also seen this information used as a complete resource for many B2B sales teams that are struggling with lead nurturing.
So, my example would look something like this:
How to get in touch – Prefers email or connecting via LinkedIn

Known RFPs – 1 from 2018

Discovery questions/topics – Team dynamics, Market insights, Opportunities

Pain points – Saturated market, lack of sales support, marketing and sales not in-sync, Unknown buyers for new market

Solution(s) you offer that specifically solve each pain point – two decades of industry knowledge, experience unifying teams and utilizing the proper technology to do so, development of specific target audiences and implementing seamless lead gen campaigns to reach them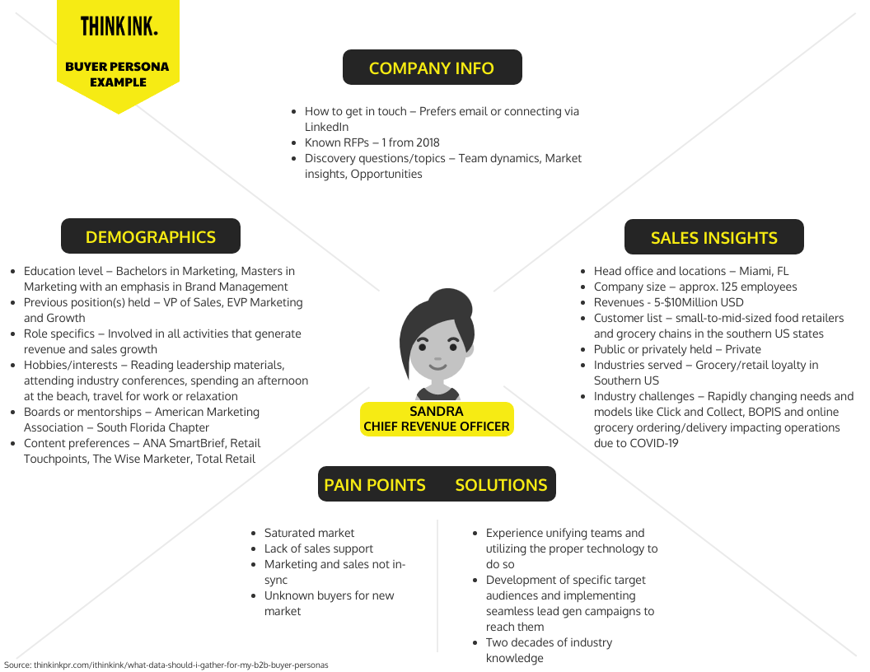 The more information you can gather upfront, the more effective your marketing campaigns and sales communications will be in the short and longer-term.
I'll wrap up by asking this: How are you applying buyer personas within lead nurturing and content campaigns? Are potential customers engaging with your company? Have you found the messaging that's working best for your brand?
If not, maybe identifying the right data will help you achieve that. Remember to use this as a guide and update your personas often, as B2B buying behaviors change frequently.
Sign up for our insights on the convergence of business and PR