Mobile Retail and the Future of Car Buying: A Warning from the Airline Industry
Aug 02, 2017 / By Content Editor
For decades, airlines have watched their fares sell at commodity prices as consumers increasingly enjoy the expanse of online options. Settled into a routine of paying commissions to sell their own inventory to Online Travel Agencies (OTAs), airlines were generally happy to pay up as there had never been such an accessible way of reaching the volume of customers. And without more investment and marketing know-how, the direct channel would only yield so much. Along the way, this process created a new middleman between airlines and passengers – the OTA – and thus the market for low fares became a permanent cost of doing business as airlines scrambled to find more ancillary revenues.
Over the last decade, online booking has matured and is on an unstoppable shift to mobile. In fact, mobile now makes up 40% of digital travel bookings in the U.S. – and more than half of all travel-related searches. Looking ahead, mobile travel sales are projected to climb from $75B in 2017 to $108B by 2021, while desktop (and laptop) bookings continue to decline. Hotel bookings made on mobile devices increased 67% last year, too.
For airlines, the shift to mobile is not only inevitable, it's an opportunity to re-think the OTA middleman arrangement. The boom in air travel due to lower fares has had a costly side effect – lower quality in service. Airlines have tried to squeeze more passengers onto planes and more ancillary revenue out of them. And we know how passengers feel about that.
If airlines re-invest in direct channel booking and especially the mobile channel, they can more closely integrate booking with loyalty and other marketing strategies, communicate more effectively and reclaim valuable traffic, customer data and the actual customer. Just as the old airline business model was disrupted by new competition (LCCS, ULCCs) and new metasearch and booking technologies (OTAs) – the only way forward is for airlines to disrupt themselves in order to re-connect with the customer and create a fundamentally better experience.
Mobile has given them their opportunity, just like it's doing for the auto industry.
Mobile retail: disruption, an old new threat
The auto industry has only recently faced the threat of disruption on the same scale as airlines. With the likes of Uber and Lyft (and the self-driving cars that will be hitting the roads next year), car makers could potentially face their worst nightmare – the commoditization of the car.
Of course, comparing the airline industry and the auto industry is somewhat of an apples-to-oranges comparison. Unlike a plane ticket, car travel requires a major personal investment – you don't have to buy a plane to fly, but you do have to buy a car to drive. Or, at least that's what the car makers and auto dealerships want consumers to believe – Uber's ultimate goal is self-driving cars. Unfortunately for the auto industry, consumers aren't happy with the car buying process, and unless changes are made, Uber and Lyft could be much more of a threat than car makers realize.
What car makers have up their sleeve is that they are great advertisers. Well, their agencies are the clever ones, at least, because the dream sold on TV turns into an auto dealership nightmare as the typical buyer is passed from salesperson to finance back to a salesperson scribbling numbers on a piece of paper for several hours. Exhausted and no nearer to buying a car, they are ready to storm out.
But consumers have something more powerful up their sleeve, and in their hand. A smartphone. These devices have made car buyers better armed for the battle – showing up to dealerships having already done their research (and quite possibly knowing more than the salesperson). Google has looked at consumers' "micro-moments" and found that 70% of searches for car MSRP and list prices are done on mobile – power has shifted to the consumer much as it did in the airline industry when OTAs emerged back in the 90's.
The point is that consumers have power they didn't have before – and they know it. It's not just that they won't tolerate bad service – they expect positively good service. Car buyers are not passengers on an airplane – they can walk out, and they will unless the auto dealerships smarten up.
You can teach some old dogs new tricks
For auto dealerships, change isn't optional – the question is what changes do they need to make TODAY?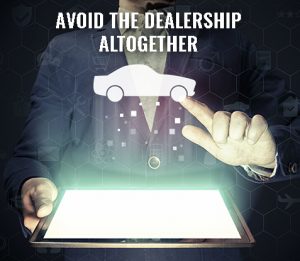 Cadillac is testing a strategy and putting tech disruption to its advantage. BOOK by Cadillac costs $1,500 per month and gives 'members' rights to a car rather than ownership of a physical vehicle – imagine a Netflix for cars. Subscribers can change Cadillac models up to 18 times per year, reserving a car through the BOOK app the night before they want it. The average BOOK user is 34 years old – nearly half the age of the average Cadillac owner.
Ford's Lincoln Motor Company is taking a different approach – rather than disrupt the car buying model, it wants to transform car buying into a luxury experience, catering to a customer's schedule and providing at-home service. Lincoln is also testing a $30 per-hour chauffeur service in Miami and San Diego – with Uber and Lyft clearly in their competitive line of sight.
These are just two strategies to get us thinking. Geared toward a luxury market, however, they won't solve the dissatisfaction in a mass market of car buyers. Yet there are ways to translate the same outside-the-box thinking to the average car buyer. It may not be practical to tr eat every consumer as a luxury prospect with white glove, at-home service – but dealerships can create vastly better showrooming experiences and brands can use mobile technology for virtual showrooming (retail giant IKEA uses awesome virtual reality). Whatever it does, the auto industry recognizes it needs to change how it caters to retail consumers – they want courteous, personalized AND tech-friendly service.
Uber, Lyft and mobile companies like them have disrupted everyone – not just the auto industry. More people are figuring out they can use services like Airbnb to become private hotels and sell local tours and activities. If auto dealers don't make changes now, they may wind up in the same predicament as airlines – great machines but a commoditized business model that failed to elevate the customer experience and adapt to new technology, different consumer expectations and a rapidly changing market.
If you liked this post, you may also like:
The Sharing Economy, Hotel Industry Disruption and the Changing Travel Landscape
Are Mobile Payments & Mobile Commerce Finally Tying the Knot?
Sign up for our insights on the convergence of business and PR