From Magic City to Microchip City? Mapping Miami's Tech Hub Gamble
Apr 23, 2021 / By Vanessa Horwell
When people hear the expression, "city by the bay," a phrase forever popularized by the Rock group Journey, the vast majority of them (who remember the song!) will think of one city: San Francisco.
Some few Floridians may poke their heads out from underneath their beach umbrellas and vote for Tampa. Bay-staters, too, are well within their rights to give Massachusetts a nod. (It is "The Bay State," after all) There could even be a rallying cry from the tundra of Green Bay, Wisconsin, perched on the icy shores of Lake Michigan and the bay that bears the city's name today.
But what about Miami? You know, "The Magic City," the "3-0-5," "The Capital of Latin America?" While its neighbor to the east is known for its Atlantic Ocean frontage, Miami proper has a beautiful bay all its own, Biscayne Bay. And pretty soon, if present trends continue, Miami may become the "new" "city by the bay" as it poaches more ex-pats from tech hubs like San Francisco and others in a bid to rebrand from a place of sun, sand, and surf, to one of silicon (a different kind to what we're known for!), semiconductors, and software development. In other words, a Southern tech hub.
Even if you live thousands of miles away from this palm-treed paradise, Miami's tech-related positive press over the last several months has been hard to miss. That's especially true following Miami Mayor Francis Suarez's December 4, 2020 "How can I help?" tweet to Varda Space co-founder Delian Asparouhov in response to his musings about moving Silicon Valley to Miami. I'm a local and can tell you it's as in-your-face as Dolphin Expressway rush hour traffic, hours before Thanksgiving weekend when four out of every five license plates hail from someplace else.

3-0-5 pride vs. the 4-1-5 slide
Yes, we've had our setbacks with Covid-inspired craziness. And yes, the "Florida Man" meme is by no means showing us at our best. But it feels like Miami is finally growing up, maturing from its shallow, party scene Miami Vice cocaine-fueled real estate days into something a lot more serious (and legal) – without losing what makes the 3-0-5 one of the most dynamic cities on Earth. Yes. I said it. Earth. Or, as Mayor Suarez says in a billboard overlooking I-80 in the 4-1-5 (San Francisco, people) near Twitter's headquarters, "Thinking of moving to Miami? DM me."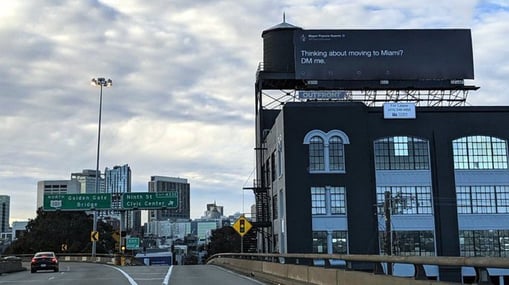 People are. According to the numbers, what's happening in Miami and South Florida in general, is starting to turn heads – both in terms of migration data and in venture capital. Population-wise, just from December 2020 to January 2021 alone, Miami saw a net migration of 145% (in 2020, there were 40% more moves into Miami than out) while the San Francisco Bay Area suffered a 47% migration loss.
The contraction was likely fueled (in part) by a slew of negative news related to rising crime rates, open-air illegal drug markets, a soaring cost of living (the highest or second highest in the US, depending on methodology), and, oddest of all, an ongoing human public defecation problem, that while not as bad as the stinker year of 2017, still had the city logging over 15,600 feces complaints. Throw in California governor Gavin Newsom's tumbling approval rating over his handling of the Covid-19 pandemic, and it's easy to see why many Bay Area residents are saying 'adios' to their (literally) shitty city and 'hola' to what could be called America's first "Silicon Swamp."
Thanks to stories like this in San Francisco and elsewhere, already a small but mighty who's-who list of millionaires and billionaires like venture capitalists Keith Rabois and Alpaca VC general partner David Goldberg and a cadre of young and hungry 30-something and 40-something jet-set aspirants are clamoring to infuse their brand of magic into the Magic City.
Likewise, venture capital dollars are also adding up. According to data compiled by Crunchbase, in 2020, Miami-based VC companies raised $972 million across 57 deals. And although the deal count was the lowest in the last five years, the total dollar volume was the highest by a wide margin, besting the previous top year of $678 million by 43%. Regionally, the numbers tell a similar story. Greater Miami, which is part of the Miami-Dade, Broward, and Palm Beach County metropolitan area, home to some 5.7 million people, brought nearly $2 billion in VC funding, representing almost all of the private capital raised in the entire state.
Mayor Francis, very much his one-person tech-wooing band, has nurtured much of this funding-friendly climate himself. In a recent podcast with Tech Hub South Florida CEO Joe Russo and Johanna Mikkola, CEO & Co-Founder of BrainStation, a Miami-based digital skills training company, the mayor reiterated his firm belief that local government can't afford to be hostile to the region's burgeoning tech industry.
"You are not the enemy. You are the people who create businesses, who create high-paying jobs, who give people an opportunity to fulfill their dreams, who change the way we live," he said. …" We have to come to the realization that technology is here to stay. It's a part of our life. It's a part of every industry in the world. And it's only going to become more a part of our life."
The Covid catalyst
To be sure, Miami's recent tech-centric growth spurt fits into a larger, more sinister story: the global pandemic. As of this article's writing, some 575,821 Americans have died from Covid-19, and nearly 32 million have been infected. Despite increasing vaccination rates – now at 21% of the US population – many epidemiologists fear a fourth wave of infections (See: Michigan) as the battle between vaccines and variants rages on.
After a year spent in lockdown and the road to 'the new/next normal' anything but certain, Miami's appeal on the surface seems obvious: year-round warmth and sunshine, a vibrant entertainment and tourism industry, a budding foodie and arts scene, world-class beaches, and no state income tax can make the city feel a bit like an adult spring break. Anecdotally, many newcomers have said to me over the years when they first arrive (particularly if they're trading snow for sand) that it feels as if they're still on vacation.
There's also the Covid-inspired remote work revolution – a revolution pioneered by Big Tech in the first place, with companies like Twitter declaring early in the pandemic that work from home would likely be "indefinite." Fast forward nearly a year, and the latest survey data suggests that by 2025, 70% of the American workforce will work from home at least five days a month.
This flexibility will no doubt be yet another incentive for some workers to move to Miami. However, it also means that many will stay put, preferring the comfort and security of home instead. For companies that choose to relocate here with a favorable corporate tax environment, it means that they can keep more of their hard-earned money and reduce their brick-and-mortar presence, another cost saver, in an already (relatively) low-cost city compared to places like San Francisco, Chicago, New York, Boston, and LA.
Miami-based tech companies can also recruit talent from all over the world. And that's important considering that despite Miami's many pluses as a tech hub incubator, the region still lacks a truly re-skilled or upskilled tech-enabled labor force. While good-to-very good in varying degrees, local schools and universities aren't on par with the Northeast or West Coast. Even compared to other emerging tech hubs like Austin, Texas, or a place like Albany, New York, which sits in the heart of a region its promoters call "Tech Valley," Miami remains a bit player. Whether Covid-19 proves to be a true catalyst or more like pandemic catnip remains to be seen.
All of this begs the question: is Miami's tech hub buzz real, or is it just another speculative bubble?
South Florida is no stranger to such boom-and-bust cycles, going back to the 19th century when the region's first developers and marketers tended to over promise and under deliver.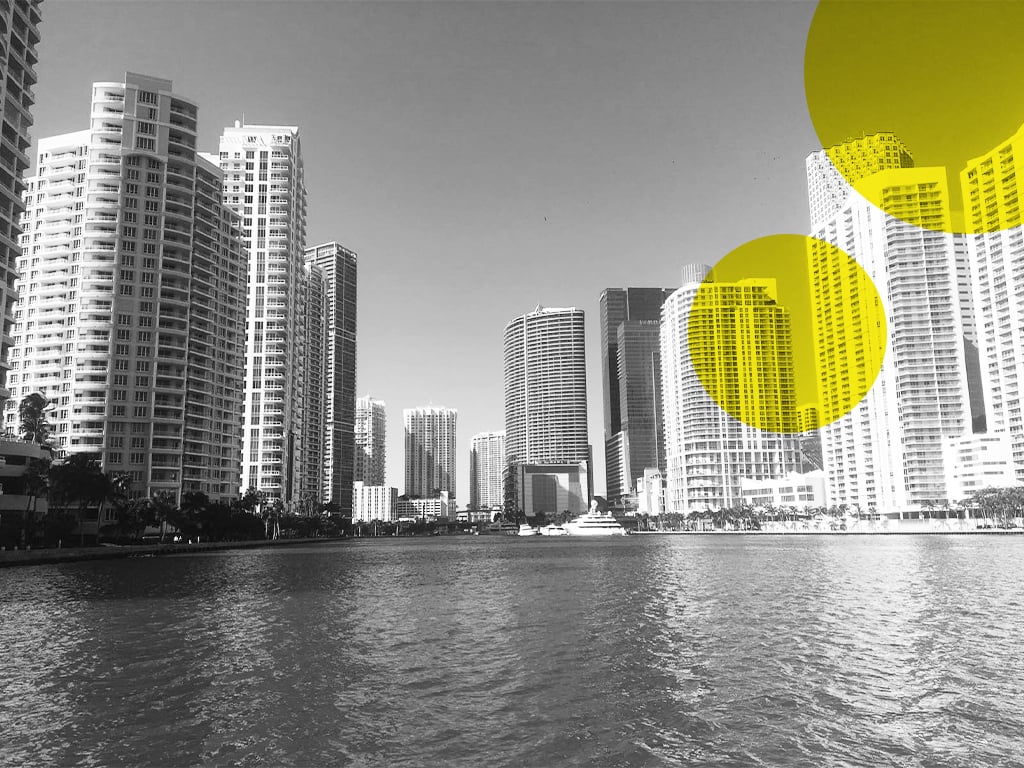 Bienvenido a Miami
Call me biased, but in my professional opinion as a multi-decadal Miamian whose company is plugged into several tech-related companies and as someone who appreciates the city's diverse human capital, serving as a crossroads for American, Latin American, and European businesses alike, like our pro-Crypto currency mayor, I'm banking on Miami's tech-hub success. This is not dot com 2.0. This is not solely a Covid convulsion. It's as real as the coconut palms growing in my yard.
"We have to seize the moment," Suarez said in his March 9 podcast. "And I think that means we have to look internally at our goals, what are our resources and invest at a time when we have to strike when the iron is hot. And it's hot right now."
The key to sustaining Miami's toddler tech industry is to keep helping it mature. And like Walt Disney himself, to turn dreams into reality. I'll echo the insights shared by Richard Lamondin, co-founder and CEO of EcoSystems, a water, and energy conservation services provider, and Seth Cassel, co-founder, and president of EveryMundo, a travel technology company serving many global airlines, in their recent co-bylined op-ed in the Miami Herald.
Miami is not Silicon Valley. And it probably won't become the "Silicon Swamp" either. Miami is at its best when it's not trying to emulate what others have done. Miami is at its best when it out innovates the competition when it capitalizes on its strengths as a vibrant, diverse, colorful city unlike any other in the US. As a city of immigrants, refugees from more impoverished parts of the world, our cultural DNA comes from hardy stock. We're also not afraid of re-invention – or re-building.
Miami may yet remain a bit player in the global tech sector for some time. Last year the city attracted less than 1% of all venture capital invested in the US.
But numbers like that only tell part of the story. The reality is something else. Miami, as a burgeoning tech ecosystem, is percolating across social media and increasingly making headline news. People are moving here. A critical mass of young, talented people is coalescing on our streets and in our cafes. They are networking at the gym. They are talking about Miami's future on the beach. They are bumping into one another at Wynwood Walls, or on Brickell Avenue, or at high-rise hangouts, overlooking o beautiful Biscayne Bay.
And yes, in between mouthfuls of empanadas and croquetas washed down with cafecito on our signature sticky mornings, they are calling, emailing, texting, Facetiming, Zooming, Instagramming, and What'sApp-ing their friends, family, and loved ones back home – wherever home may be. They are talking up this "other" "City by the Bay."
They are talking about their journey.
And they are inviting others to come along for the ride.
Whether they realize it or not, they are speaking about this special place as if it were the newfound love of their life, much in the same way the lyrics of global reggaeton hit Despacito did a few short summers ago and helped put Miami, the city where the song was recorded, on the map.
Sí, sabes que ya llevo un rato mirándote
Tengo que bailar contigo hoy
Vi que tu mirada ya estaba llamándome
Muéstrame el camino que yo voy (Oh)
I'll leave the translating up to you…
Until then….
¡Saludos!
Sign up for our insights on the convergence of business and PR