More Turbulence for Airlines: How One Flight Ignited a Consumer Revolt
Jul 17, 2017 / By Vanessa Horwell
Even though technology continues to revolutionize every aspect of our personal and commercial lives, some things are still unavoidable: death, taxes and crappy air travel. Airline disruption? That's unavoidable, too.
Earlier this year, United Airlines faced a public relations disaster after airport police, at the carrier's request, violently removed a passenger from an overbooked flight. The incident became a viral phenomenon. Consumers voiced their collective outrage at the lack of even basic respect for a paying customer, but the anger ran deeper than this single incident.
From the consumers' side of the fence, airlines have been treating passengers like cattle—or "self-loading cargo"—for decades, with the trade-off being lower fares. The United Airlines scandal exposed how vulnerable consumers can be to big business, but also how powerful they can be when they push back, not just with their wallets but with their cameras, memes, online reviews and long-term loyalty.
It's been nearly 40 years since President Carter signed the Airline Deregulation Act, a bill that privatized every aspect of the air travel industry—airlines, routes, fares—except safety. Since then, low-cost carriers (LCCs) like Southwest Airlines have become national brands, while big carriers like United Airlines have used centralized hubs to expand routes. Lower fares have made consumer travel affordable, but profit margins are notoriously thin as airlines squeeze in more passengers by cutting costs (i.e., service) and eliminating or monetizing services like food and luggage.
The mantra of deregulation was to "let the market decide." Well, it's decided, and more and more consumers refuse to be treated as human commodities and marginal costs by the airlines, even as smart, data-driven brands like Amazon and Starbucks accustom them to being treated as complex individuals with preferences, options and influence.
Outdated Technology and Thinking Are Not Helping the Airlines
The airlines have used new media and ecommerce to be more competitive with each other and increase ancillary revenue. However, it's no use using new technology to keep an old industry on life support. The price-driven race to the bottom, which has been the norm for decades, is not a strategy for a modern airline industry—or any industry. Unless airlines can build differentiated service and brand loyalty—which will require a major shift in the technologies they use, a different operational mindset and changes in communications—they will hold back the economy and the 21st century.
Fortunately, airlines are not going it alone. The modernization of an industry is a process of coordination between brands, strategists, vendors, thought leaders, communicators and consumers themselves.
First, though, the industry needs to understand the problems, have bold vision for the possibilities, and commit to the process.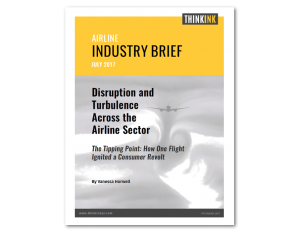 In our July 2017 industry brief, "Disruption and Turbulence Across the Airline Sector," we look at three issues that are ripe for change within the airline industry:
Reverse the cultural resistance to change. An IBM study found that only about 8% of airlines qualified as "innovators" compared to about 39% of hotels.
Invest in technology and human resources for the digital environment. Travel can't just be about getting from Point A to Point B. It has to become a true brand experience.
Put a price tag on inaction. By 2021, IATA sees travel being the world's largest ecommerce category, led by airline ticket sales. What the airlines do—or don't do—today will determine their place in 2021 and beyond.
For a deeper look at the past, present, and future of the airline industry – or at least how we at ThinkInk envision that future – download Disruption and Turbulence Across the Airline Sector to learn more.
How would you go about changing the airline industry?
We would love to hear your views and recommendations on what's needed to help airlines help themselves. Send your comments to info@thinkinkpr.com to be included in our next airline industry commentary.
And if you enjoyed this piece, you may also be interested in a previous blog post on airline loyalty fraud.
Sign up for our insights on the convergence of business and PR