Too Sexy For My Leggings... and Other PR Fails
Mar 31, 2017 / By Vanessa Horwell
Most progressives will agree that we've been treated to a cornucopia of PR gaffes on an almost weekly basis during the last 18 months. It could be longer -‑ I've become immune to "that" noise, so it was with somewhat sick delight that I started following United Airlines' recent PR cluster when a gate agent stopped two teenage girls from boarding a United flight leaving Denver because… wait… they wore leggings.
The airline's PR reaction merits analysis, but first let me to share a little context.
As the story unfolded on social media -‑ from where so many stories now originate -- I was surprised that an airline, particularly a U.S.-based one, would have much by way of a strict dress code. I'm not a snob, but it's difficult to look at some of the passengers boarding a domestic flight these days without feeling as if I'm a bit overdressed because I'm not wearing track pants or sliders.
But back to leggings, United Airlines professes to give its paying passengers considerable leeway in how they dress, noting that the two young ladies in question were actually flying on a company travel pass. In this instance, the airline felt it was right to insist that the teenagers dress as if 'they were employees upholding the company image.'
The difficulty here lies in the interpretation by the individual of the airline's contract of carriage and the reality of how people dress today. If I wore an ultra-strappy/sexy top, would that be regarded as indecent as an employee but perfectly acceptable for a fully-paid passenger?
The double-standard parallels between this incident and others happening across the airline industry (read: travel bans) are striking.
But back to the leggings.
The PR firestorm was triggered by a quick-fingered, smartphone-equipped witness to the teenagers' dilemma. As she observed their exchange with the gate agent, the witness asked, via Twitter, "Since when does @united police women's clothing?" Without knowing all the facts, the airline's initial response, also via Twitter, was to cite a passenger agreement that gives UA the "right to refuse passengers who are not properly clothed." This technocratic response only fueled the outrage -- mentions on Twitter, Facebook and Instagram rose from an average 2,000 daily to 174,000, 70% of which were negative.
After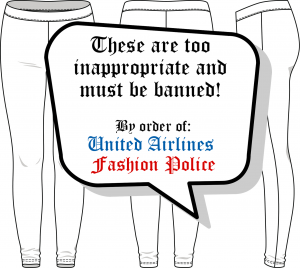 what one presumes was a mad scramble across United's PR department, the airline came up with more facts about the young travelers and then focused Twitter messaging on the narrow issue of the company pass. A subsequent UA tweet noted, in the same brusque tone, "The passengers this morning were United pass riders who were not in compliance with our dress code policy for company travel."
From a PR point of view, UA did at least one thing right -- its social media counter-offensive began quickly, while the Twitter storm was still raging. But during the crucial early minutes and hours, United messaging was clumsy and, as it turns out, inaccurate. A third passenger without a company pass -- a fare-paying customer -- was forced to put a dress over her leggings before boarding.
"We're Close to Heaven, and Should Dress Accordingly"
Not limited to social media, the incident made TV screens and news headlines around the world with much of the coverage mocking United's action. The New Yorker wrote its own Official United Airlines Dress Code to include this guideline: "When we've made our ascent to around thirty-six thousand feet, we are close to Heaven, and should dress accordingly."
Of course, United's PR fail will soon be replaced with another company's spectacular misjudgment of public reaction. Maybe the hiring of Andy Coulson (who was David Cameron's PR director for a brief time and then a News of the World reporter who was arrested and imprisoned for a 2011 phone-tapping scandal) to 'makeover' the Telegraph Media Group's public image in the UK would qualify?
What's the connection here? Misalignment between front-line staff, PR and management teams and the customers themselves.
In the case of United, leggings have become fairly standard apparel ‑ which raises the question of the standards themselves. I certainly don't question a company's right to control its own image (that's what our company gets hired to help with, after all). And this could include employee attire. But I'll bet money that UA clothing guidelines haven't been updated for some time. When they do, can someone please add velour tracksuits and adult onesies to the list of offending apparel? Thank you. You're welcome.
Granted, the PR team wasn't given a strong hand to play with in the first place. Even so, the problems were largely of UA's own doing. The UA dress code appears to be outdated, and the gate agent and other employees should have been trained and empowered to make smart decisions that would avoid public spectacle and protect the brand.
Of course, no communications strategy or team can ever fully prevent PR crises from occurring. But when they do, strategic planning, smart thinking and awareness of the sentiment of external audiences are critical in steering discussions to a much a better place:
Get all the facts, and quickly. In this case, the initial airline messaging implied that the leggings ban applied to all passengers, and this prompted an embarrassing correction.
Adopt a customer friendly tone. Early tweets had a "my way or the highway" feel, and that is not what UA intended.
Admit mistakes, and commit to change. I don't think - in this instance - it would have hurt anyone at the airline to simply say that the gate agent could have cut the teenagers some slack and that, in any case, it's time to take a fresh look at the dress code.
PR is not the only wall of defense. All staff members are part of the PR machine, whether they realize it or not. UA's HR department should have had etiquette and training standards in place that would have changed the gate agent's behavior ‑ and could have prevented the @!%#storm from happening in the first place.
The bottom line is that this kind of self-induced PR nightmare has real implications for a brand -- financial and reputational. While UA was scrambling to protect its battered image, a major competitor gleefully tweeted, "Flying Delta means comfort. (That means you can wear your leggings.)" Maybe they'll introduce a new fare class as well? "L" for leggings-wearers?
Now, THAT is good PR.
Sign up for our insights on the convergence of business and PR