eMerge Americas 2016 Celebrates B2B Tech, Innovation & Entrepreneurship in Miami
Apr 21, 2016 / By Vanessa Horwell
For three years in a row, the team behind eMerge Americas has brought leading investors, entrepreneurs, and innovators to Miami in support of fostering greater collaboration and interest in our local tech scene and throughout Latin America. And this year, they hit an exciting milestone by welcoming a sellout crowd of more than 13,000 attendees!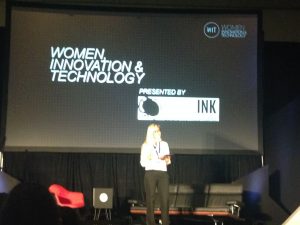 In our first year as an eMerge participant, the ThinkInk team was thrilled to listen to insightful presentations from a broad range of top speakers. (And we do mean broad – no other event could feature talks from former White House intern Monica Lewinsky, music star Pitbull, AOL co-founder Steve Case, and futurist Ray Kurzweil, just to name a few!)
But eMerge was even more exciting as an opportunity to celebrate and showcase the #MiamiTech community and its growing slate of high-potential startups, incubator and accelerator programs, and entrepreneurial education initiatives. And as the sponsors of the Women in Leadership panel, we enjoyed showcasing the insights and experiences of several inspiring female executives in tech, including moderator Pamela Silva Conde, Co-Anchor of Primer Impacto and a six-time Emmy winning journalist; Aminda Marques, Executive Editor & Vice President of News for The Miami Herald; Denise Evans, Vice President in Women & Diversity & B2B Marketing for the IBM Corporation; and Miriam Lopez, President & Chief Lending Officer of Marquis Bank.
Also, as a judge of the NFTE (Network for Teaching Entrepreneurship) startup competition, our Co-Founder & CSO Vanessa Horwell was pleased to recognize some of our community's top young talent with well-deserved honors. Khareem Oliver, founder of Find or Found, a pet finding app, and Gabriel Martinez, founder of GAM-V, a school supplies vending system each won $3,000; Stephanie Diaz of Lux Candles won $1,500; Justin Rivas, of Top Level Athletics, a youth basketball program, and Kevin Diniz, of Easy Scholar, each won $1,000 for their exciting ideas!
From hackathons and contests to keynotes and conversations, eMerge was an exciting showcase of innovation that we were thrilled to be a part of. Here's to another sellout in 2017!
Sign up for our insights on the convergence of business and PR