A Late Take from Climate Week 2023: How the Travel Industry is Confronting the Green Elephant in the Room
Oct 13, 2023 / By Vanessa Horwell
I'm a few weeks late in posting this take while Climate Week NYC was in full swing last month, as international leaders from academia, business, and government gathered for the largest event of its kind.
As the week-long event was happening, our agency was gearing up for a different event, the World Aviation Festival in Lisbon, which would also address the climate crisis from a different perspective—the aviation sector's impact on climate change.
The question on our minds (and many speakers and attendees): "How can the travel industry change, adapt and evolve to provide a greener and sustainable future?"
It's a question painted with broad brushstrokes, and unfortunately, we don't have the big, overarching, or singular correct answer. But we have many germs of ideas sprouting from across all corners of the broader industry (and beyond), and already many promising solutions that, despite being several years away from implementation or currently at a scale to be commercially viable, offer real hope and change.
First, a look at where we are in aviation and green travel today.
Banning Cheap Flights? France Takes Charge
The idea of banning cheap flights isn't a new one. Proponents argue that ending the era of €10 flights would reduce travel and the overall number of planes in the air. This move would supposedly help tackle the 11% of global greenhouse gas emissions from tourism.
France recently made headlines by banning all short-haul domestic flights between destinations that could be reached in 2.5 hours or less by train. Now, the government is considering banning cheap flights by requiring "minimum ticket pricing."
In practice, every fare will require a minimum rate, presumably set by the French government, for all carriers to fall in line with. But that strikes me as poorly thought out and flawed; it would be next to impossible to impose this on international flights due to EU laws, and cheap domestic flights in France are essentially a relic anyway.
Moreover, no evidence shows this move would impact the drive toward carbon zero, reducing emissions, or changing behaviors.
For example, what would prevent a person living in Strasbourg from crossing the border in 30 minutes and flying from the nearest airport on a cheap fare while their personal carbon footprint soars even higher? In this context, the French rationale makes no sense.
Regressive Actions Damage the Green Travel Movement
Every vendor, travel provider and airline we met with in Lisbon acknowledged the urgency of climate change and working together to build real-world solutions--solutions that will enable consumers to have more choices to make the right choices.
The problem with initiatives like minimum ticket pricing is that they don't address the real issues. They mask them, and they prolong long-term behavioral change.
Does regressive taxation bring us any closer to replacing traditional jet fuel with Sustainable Aviation Fuel (SAF)? Does it make it any likelier that electric planes will be in our future?
No, and no.
Penalizing carriers won't deliver decarbonization at a faster rate. What it will achieve is impacting ordinary people who find travel suddenly out of reach and cities that rely on tourism revenues to survive. (NOTE TO READERS: Having just spent two weeks in Lisbon, I'll address the issue of over-tourism in an upcoming post).
Wouldn't a better approach be to incentivize carriers (and travel providers) to invest in lower-emission aircraft, partner with SAF manufacturers, and together, develop a set of standards for every provider in the chain, like uniform suppliers, to ground and baggage handling vehicles – I could list dozens of examples – to all take responsibility for enacting tangible and sustainable change?
Applying some basic principles of psychology here would indicate that incentivizing such wide-scale global behavioral change will deliver more positive outcomes than punishment.
Finnair's CEO, Topi Manner, thinks similarly… that discouraging travel or making it less affordable wouldn't incentivize the industry to go green. And increasing fares and reducing options is hardly likely to inspire greater consumer support for green policies and future sustainability initiatives.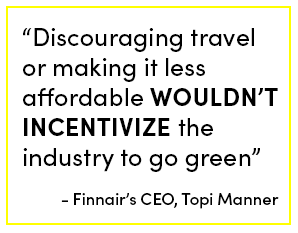 We've seen this play out before with controversial policies like Australia's short-lived carbon tax program, which was quickly repealed in 2014. And in 2016, Washington State rejected a carbon tax outright because progressive parties, which are mainly pro-climate action, refused to support it.
The reality is there must be a collaborative effort, and efforts like more taxes and charges have repeatedly failed to gain buy-in and momentum the world over. Without industry approval, there is no innovation. Without consumer approval, there is no cooperation.
Airlines Work to Raise Consumer Awareness
Climate Week NYC wasn't about restating the obvious: the world has reached a crisis point. It was about showcasing what industries are doing to reduce emissions and encourage the people they serve to enable change alongside them.
Positive signals are emerging, with seven in ten young people worried about the climate crisis. On the other hand, it's no secret that news feeds are filled with bad news regarding rising temperatures, extreme weather, and increasingly grim predictions for the future.
While it's easy to adopt a fatalistic approach, the industry is making genuine attempts at change, which includes starting in-house and supporting consumers in transforming the way they fly.
Air Baltic

Over the peak summer travel months, Air Baltic has been increasing passengers' awareness of their carbon footprint; since May 2023, passengers have been able to purchase SAF alongside their flight for as little as three Euros.
The airline will then purchase and consume SAF for 12 months after the passenger's booking, and 5,000 passengers have already opted in. Will this action alone make a significant difference? No, but it's one example of one carrier creating a program to start educating passengers and helping them become more accountable for and conscious of the impact of their behaviors. Imagine this type of effort at scale across regional and national carriers worldwide, and you get the picture.
SWISS Air

In contrast, SWISS Air has opted to advance its sustainability goals by giving passengers the option to purchase more expensive flights between Zurich and Geneva on aircraft using SAF. SWISS CEO Dieter Vranckx expects fares to increase by 5% to 20% under this program.
The problem is that only 3% of passengers have taken up this offer. And herein lies the issue with the industry's current approach.
Consumers Will Not Pay for the Green Revolution
Consumers aren't entirely sold on raising the cost of travel in response to the climate crisis. Just ask CPG brands and manufacturers how raising prices for sustainably sourced, produced and packaged goods is working out for them.
While around half of consumers said they would be willing to pay more for sustainable packaging, just 4-7% of shoppers said they would pay a premium of 10% or more. In short, it demonstrates this resistance isn't unique to travel.
Some recent findings from a Morning Consult survey make this quite clear:
47% said climate change has no impact on their travel purchases.
78% of U.S. adults were unaware of airlines offering carbon offset programs. In another study, two-thirds of Americans are familiar with them but don't understand what they are or how they work.
Just 31% of travelers said they would pay extra for an eco-friendly flight, while 59% of consumers said they would purchase lower-emission flights if they received cash back.
This last point is especially pertinent. Consumers already feel the ongoing sting of inflation and higher prices. Will the masses support greener travel if it puts an even bigger dent in their wallets?
In short, the industry can't rely on passing sustainability costs to consumers through higher prices and offset programs. Environmentalists have long called carbon offset programs ineffective at reducing emissions.
Some studies have reported Australian offset purchase rates at 10-16%, with international rates even lower at 2-3%. That means airlines must rethink traditional green programs like carbon offsetting and move on from asking consumers to pay to change their behaviors to providing positive reinforcement, i.e., incentives, for doing so.
Consumers Won't Give Up on Travel… Or Convenience
Flying has never been more popular as affordable flights increase globally, and all signs point toward exponential growth for the travel industry as overseas tourism becomes more accessible to millions.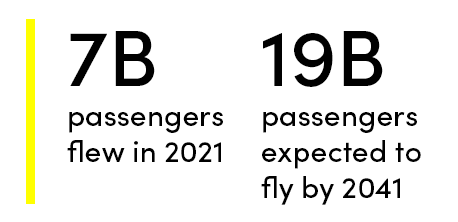 But even today, the return to pre-Covid levels remains slow. Although April 2023 showed a 45.8% year-on-year increase in demand, it hides the fact that growth hasn't returned to previous levels for various reasons. In August 2023, IATA numbers show that demand is still just 88.5% of August 2019 levels.
Some may argue that climate concern is having an impact, but it's vital to look long-term. Around seven billion passengers flew in 2021, but projections indicate that by 2041, 19.3 billion passengers are expected to fly.
Consumers' unrelenting desire for travel persists despite growing climate concerns, so let's shift the approach from 'flight shaming' to 'flight solutions.'
In other words, businesses and industries must collaborate with consumers to pave the way for a greener world. While consumers increasingly express their desire for eco-friendly travel options, they remain steadfast in their demand for affordability and convenience. This presents a complex problem that only the industry itself can resolve. While consumers may be open to compromises and eco-friendly choices, they also expect the same convenience and cost-effectiveness they've come to enjoy.
The challenge lies in innovating and offering sustainable alternatives that ease the industry's impact on the environment and align with consumers' expectations. This requires a delicate balance where sustainable choices meet the criteria of affordability and convenience, making eco-friendly travel both a responsibility and a practical and appealing choice.
Scaling the Supply Chain
While Sustainable Aviation Fuel (SAF) holds immense promise in reducing aviation's carbon footprint, its primary roadblock remains its prohibitive cost compared to traditional jet fuel. Consumer concerns over rising travel expenses have also led to hesitancy in embracing SAF.
Rather than passively waiting for SAF costs to naturally decline, United Airlines has embarked on a proactive mission. They've invested a substantial $50 million into a joint venture called Blue Blade Energy to develop a new SAF technology using ethanol. It could produce as much as 135 million gallons of SAF annually. While this may seem like a drop in the ocean of aviation fuel consumption, such investments in the supply chain could slash costs while significantly reducing emissions.
There's also the issue of scale, which looms large as well. As of August 2023, a single barrel of jet fuel soared to nearly $120, which may surprise many climate activists—recent figures show that SAF costs remain almost eight times higher than standard jet fuel. And these figures can vary substantially across the global market. For instance, one study reveals that while jet fuel was priced at $0.5 per liter, SAF stood at $1.10.
Of course, SAF is still in its nascent stages, akin to the initial cost challenges faced by Tesla and lithium batteries upon their introduction. With ongoing research and development, we can hope that SAF will follow a similar trajectory of cost reduction and increasing sustainability, ultimately rendering it a competitive and eco-friendly choice for airlines worldwide.
The Business Travel Problem
Business travel has been a reliable revenue stream for airlines for years, often subsidizing leisure travel. Today, the aviation industry faces a new challenge of balancing the need for revenue and the undeniable environmental drawbacks of business travel, which stands as one of the least eco-friendly modes of transportation.
Major corporations have also acknowledged this challenge, some of which are keenly attuned to the impact of emissions on their public image. Take the global accounting giant PricewaterhouseCoopers (PwC) as an example; in their commitment to achieving net-zero emissions by 2030, PwC has set a target to slash business travel emissions by 50% by 2030, using 2019 as the benchmark year.
The pandemic drastically reduced business travel, and its resurgence has been slower than anticipated, creating a financial quandary for many airlines. Some have sounded the alarm, including Lufthansa, Air France-KLM, and British Airways. Recent earnings reports reveal that corporate customer bookings remained at 60-70% of pre-pandemic levels during the second quarter of 2023 as more companies pivot away from non-essential business travel.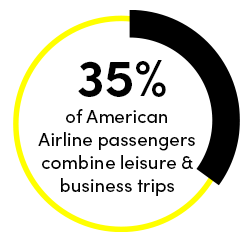 Acting as a minor counterbalance, more 'bleisure' travel is emerging along with the gradual return of traditional business travel. According to American Airlines, 35% of their passengers now combine leisure trips with business meetings, reflecting a 5% increase from the before times.
American is strategically placing its bets on the endurance of this trend, anticipating it will expand into a larger demographic segment. Early results suggest the approach is effective, with the airline posting a $10 million net income profit in the first quarter of 2023.
While it doesn't necessarily signal the abandonment of business travelers, the airline's move certainly indicates the emergence of a new and dynamic demographic in the travel industry, even more so with the launch of its new Business Loyalty program.
New Planes for a New Future
Investing in the latest machines is one of the best ways to reduce emissions in the drive toward decarbonization. And aircraft startups are already making waves.
Boom Supersonic has created the world's fastest airliner, Overture. It's designed to fly at twice the speed of today's airlines yet operates on 100% SAF and has already secured 130 orders from carriers including United and Japan Airlines.

Source: Boom Supersonic
Heart Aerospace is another climate-focused startup committed to solving the problem of carbon-emitting short-haul flights. Its first aircraft, the ES-19, is an electric regional airliner with an operational range of 400 km.
Crucially, the ES-19 emits no emissions and is also a low-noise aircraft. Plus, the fact that it can operate on a runway as short as 750 meters opens up the possibility for short-haul flights to take off directly from metro and urban areas in much the same way as trains. The ES-19 is expected to launch its first commercial flights in 2026.
While these next-generation aircraft hold immense potential for emissions reduction, their cost-effectiveness will be out for judgment for a while.
Aviation Grasps the Bull by the Horns
It's clear that consumers want to see green changes, but there's a tremendous say-do gap between what consumers say and what they're willing to do. Recent polling shows that convenience and cost are two areas that travelers are largely unwilling to compromise on.
It demonstrates that the industry must lead the way in educating passengers and making targeted investments that unlock disruptive solutions to achieve decarbonization.
There's no doubt that decarbonization is the most significant challenge the industry has ever faced since the invention of commercial flight. With high dollar costs and long lead times, making these investments successful will require bold steps.
But radical decarbonization also presents opportunities. Airlines that decarbonize can push themselves up the carbon chain and serve the world and consumers better. Ultimately, coming to lead the decarbonization race will shape the next decades ahead and could spell the making or the breaking of household names worldwide.
Despite this, the push must continue from consumers to reinforce that business case for better sustainability practices. We can already see this in the vast divide between simple city recycling. Some cities have little to no infrastructure, whereas stars like Woodbury, NJ, saw household recycling programs begin in 1981.
There is no quick fix, but a sustained sense of urgency will keep consumers and the aviation and broader travel industries focused on creating a greener future.
Sign up for our insights on the convergence of business and PR