3 Reasons Why 'Experiential Rewards' are Key to the Future of Loyalty
Feb 10, 2016 / By Vanessa Horwell
Airline miles, "cashback" account credits, retailer discounts, gift cards, coupons, BOGOs – the list of rewards goes on and on.
Yet despite the many technological advances and evolving consumer preferences, the options for redeeming your reward points within the typical loyalty program construct haven't changed much over the last two decades.
That doesn't mean that marketers should accept that state of affairs as the status quo, however: According to research from Capgemini Consulting, 97% of loyalty programs rely on transactional rewards (that is, a customer makes purchases and earns points to use toward gifts, merchandise, or cash) but 77% of transaction-based programs fail in the first two years. That's right, 77% of your typical transaction-based loyalty programs will fail by their second birthday.
The programs that do succeed see middling effectiveness, at best: The average U.S. household now has 29 loyalty program memberships, but actively uses just 41% of them.
Given such challenges, the loyalty marketing sector (and the program managers tasked with their effectiveness) obviously needs to adapt its efforts to earn more consumer interest – and reward offerings are a very good place to start. In the Capgemini study, 44% of consumers who expressed a negative sentiment about loyalty programs on social media cited "lack of reward relevance, flexibility, and value" as the top reason(s).
Preparing for the Future of Loyalty with Experiential Rewards
Making program rewards more relevant, flexible, and high-value is shaping up to be a key goal for loyalty marketers in 2016. More personalized "experiential" reward opportunities – a.k.a activities, rather than items – may be the ticket. Here are the top reasons why, plus some of our favorite examples of who's getting the "experiential experiment" right.
Memories Create Lasting Value
We all love discounts and freebies. But as much as we look forward to earning that complimentary coffee when the punch card is full, redeeming it isn't anything to write home about – or reminisce upon later. It's just a freebie, remember? Providing program members with a unique experience makes a far more lasting – and valuable – impression than gifting them something they would buy anyway.
And when you tie an unforgettable experience to the essential elements of your brand DNA, you ensure that the memory stays forever connected to your business. The value of that goes beyond just branding to genuine consumer loyalty (borne from real gratitude for a once-in-a-lifetime reward).
Best example we've seen: When MasterCard sponsored Beyonce's world tour, it offered upscale customers access to backstage passes and front-row seats. The company marketed the opportunities as "VIP Priceless" – tying them indelibly to MasterCard's iconic "priceless" messaging.
"Earning" Means More When it's Exclusive
Now that we have dozens of loyalty cards on our keyrings and can rack up points on practically everything under the sun, the concept of "earning" rewards doesn't mean much (especially for frequent fliers, whose mileage accounts are devalued by the day as airlines change their thresholds, rules and currencies). But when you know an exciting opportunity is attainable to you only when you reach a certain threshold, you're more likely to hoard your points, or choose to shop only at retailers who can help you acquire them.
And nowhere is that more true than with reward offerings that are available to only a very select few. From members-only invites to secret "whisper" offers, exclusivity is intoxicating – especially when it unlocks an experience beyond the everyday. A key to making high-value experiential rewards feel exclusive is to limit them – either to a specific number of participants, or a specific rewards "tier" – to compel program members to feel "under pressure" to earn their slot.
Best example we've seen: Theory11, a site that sells cards for magic tricks and other magic accessories, offers various training sessions (typically via Skype) as part of its points-based rewards program. Private, one-on-one sessions are available only at the highest point levels, and only a very small number of rewards program members were eligible to participate in the top experiential opportunity: A one-time session with David Blaine.
The Social 'FOMO' Factor
Naturally, you want your loyalty program members to be so excited about their rewards that they rave about them on Facebook, Twitter, Instagram, and the like. Providing members with exciting live experiences is (obviously) a smart way to get them engaging with your brand's social media profiles or exposing their networks to your loyalty program. But "social" means more than "social media": Experiential rewards engender actual social experiences between your program members and other individuals – creating more high-potential, direct marketing opportunities.
Gifting a loyalty program member with a unique experience may spur him or her, for example, to tell a friend to join the program – or "earn up" on the program – to win the same prize. (Or to just come along for the experience, and pay for it.) Consumers today, especially Millennials, are driven by a highly motivating phobia: The fear of missing out, aka FOMO, which is the ultimate loyalty marketing opportunity of experiential rewards. Give your future customers so much of it that they take action!
Best example we've seen: Sephora's industry-leading 'Beauty Insider' loyalty program takes the cake for the FOMO-inducing message presented in the image below:
An actual text I received from a close friend, which I'd say is every loyalty marketer's dream. (Especially because it worked… I'm well on my way to a freebie of my own.)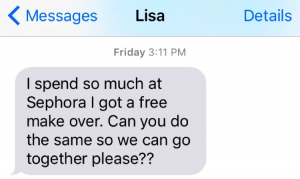 What's the most memorable, compelling, or FOMO-inducing experience you've ever earned through a loyalty program? Email us your favorite example for inclusion in a future "Rewards Showcase!"
Sign up for our insights on the convergence of business and PR